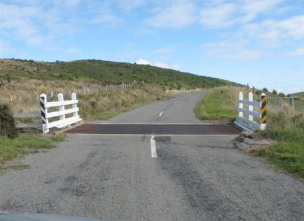 Cattle stops en-route
Le Race has 8 Cattle stops along the Route, (all situated between the Sign of The Kiwi and the Summit of Gebbies Pass). All can be treacherous in the wet and almost as tricky in the dry so we thought it was wise to make note of them all for you to study.
In Le Race we have each one signposted 8 through to 1 (just like the cobbled sections of the Paris-Roubaix) so you can count them down.
Cattle stops within Le Race Course
HOW TO SAFELY CROSS CATTLE STOPS
They can be treacherous, so on Le Race Day they will be clearly labeled 8 through to 1 so that you can count them down. A bit like the infamous cobbled sections in the Paris-Roubaix. There are 8 cattle stops along the Summit Road between The Sign of the Kiwi and Gebbies Pass.
To cross them safely:
Ø Brake to a safe speed before the cattle stop
Ø Let go of the brake before you get onto the cattle stop
Ø Stand in the pedals and freewheel across it
Ø Go in a straight line – don't try to turn while you are on it
Ø Brake and turn as necessary after crossing it
We are currently working alongside the Christchurch City Council to have a better permanent signage installed, to help rider enjoyment and to assist with your training throughout the year.
CATTLE STOP LOCATIONS
You can download a pdf description of these Cattle Stops by clicking on Le Race Cattle Stops.pdf
Please note cattle stop #4 at the top of Bastard has not been filled in (as stated in the PDF).