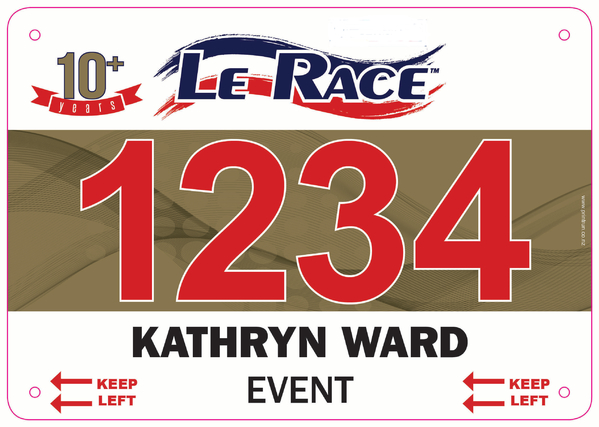 RECOGNITION CLUB
As Le Race has been going since 1999, we felt a Recognition club was needed to honour those who have competed year after year. They will stand out on the course this year, with gold bibs in recognition of their stellar efforts.
Special mention especially to Kathryn Ward, who has cycled Le Race 20 times! Congratulations Kathryn!
Legends deserve special mention so go on, tell us who you are and we'll add you to the list below the "How many Times" form linked from this page. If you feel our tally is incorrect or incomplete, please use the "How many Times" form at this link to let us know.
5 to 10 Time Club
| | | | | | | | | | | |
| --- | --- | --- | --- | --- | --- | --- | --- | --- | --- | --- |
| Name | Gender | Years | | Name | Gender | Years | | Name | Gender | Years |
| Jim Watson | Male | 5 | | Martin Shepherd | Male | 8 | | John Duncan | Male | 11 |
| Grant Christiansen | Male | 5 | | Sharlotte Lucas | Female | 8 | | Michael Kett | Male | 11 |
| Bruce Salisbury | Male | 5 | | Charles Brown | Male | 8 | | Katherine Fitch | Female | 11 |
| Rod Tanner | Male | 5 | | Dave Trumm | Male | 8 | | Dan Martin | Male | 11 |
| | | | | | | | | | | |
| Charlie Lake | Male | 6 | | | | | | | | |
| Paul Ballantine | Male | 6 | | Daniel Barry | Male | 8 | | Sam Horgan | Male | 11 |
| Peter De Goldi | Male | 6 | | Kevin Stobbs | Male | 8 | | Richard Hayman | Male | 11 |
| Winston Bowler | Male | 6 | | Ben Robertson | Male | 8 | | Mark Darvill | Male | 11 |
| Rodney Crowe | Male | 6 | | Jeremy Walsh | Male | 8 | | Andrew Mitchell | Male | 11 |
| John McKie | Male | 6 | | James Mander | Male | 8 | | Gary Ferguson | Male | 11 |
| Darcy Ellerm-Norton | Male | 6 | | Alan Withington | Male | 8 | | Alex Adams | Male | 11 |
| Hamish Shreurs | Male | 6 | | Tony Judd | Male | 8 | | | | |
| James Early | Male | 6 | | Lance Drugstrong | Male | 8 | | Min Sarginson | Female | 12 |
| Marcus Quince | Male | 6 | | Shane Aitken | Male | 8 | | Tim Class-Auliff | Male | 12 |
| Laura Fairweather | Female | 6 | | Julie Timmings | Female | 8 | | Richie Burns | Male | 12 |
| Phil Chester | Male | 6 | | Hugh Reynolds | Male | 8 | | Charlie Rattray | Male | 12 |
| Tracy Clark | Female | 6 | | Geoff Hay | Male | 8 | | Bruce Newton | Male | 12 |
| Glenn Ewans | Male | 6 | | Pieter Bulling | Male | 8 | | | | |
| Liam McCarthy | Male | 6 | | Greg Scott | Male | 8 | | Paul Cobby | Male | 13 |
| Andre Chappell | Male | 6 | | | | | | | | |
| Bruce Murray | Male | 6 | | Neil Aldridge | Male | 9 | | Ross Turner | Male | 14 |
| Raymond Hughes | Male | 6 | | Bill McSweeney | Male | 9 | | Paul Odlin | Male | 14 |
| Shelley Nisbet | Female | 6 | | Richard Lawson | Male | 9 | | Craig Churchill | Male | 14 |
| Pat Rotherham | Female | 6 | | Yvonne McDonald | Female | 9 | | Paul McLachlan | Male | 14 |
| | | | | Craig McLintock | Male | 9 | | Alastair Duff | Male | 14 |
| David Hulston | Male | 7 | | Brian Richards | Male | 9 | | Nienke Podmore | Female | 14 |
| Peter Umbers | Male | 7 | | Murray Bennett | Male | 9 | | Nathan Smith | Male | 14 |
| Simon Kraak | Male | 7 | | Kevin Whitburn | Male | 9 | | Meg Christie | Female | 14 |
| Dennis Chatfield | Male | 7 | | Brad McFarlane | Male | 9 | | Mark McGinley | Male | 14 |
| Richard Lyth | Male | 7 | | | | | | | | |
| Haley Mercer | Female | 7 | | Warren Reedy | Male | 10 | | John Vargo | Male | 15 |
| Mark Morris | Male | 7 | | Warwick Anderson | Male | 10 | | Dave Burnett | Male | 15 |
| Nick Grant | Male | 7 | | Grant Jeffreys | Male | 10 | | Scott McDonnell | Male | 15 |
| Brett Leyden | Male | 7 | | John Griffin | Male | 10 | | | | |
| Janet Reeves | Female | 7 | | Blair Stuthridge | Male | 10 | | Simon Yarrell | Male | 16 |
| Chris Gordon | Male | 7 | | Malcolm Wieck | Male | 10 | | Jack Shand | Male | 16 |
| Kelvin Pycroft | Male | 7 | | Shane Victor | Male | 10 | | Anthony Chapman | Male | 16 |
| Kate Boyd | Female | 7 | | Chris Dawson | Male | 10 | | Cyril Hubbard | Male | 16 |
| Jonathon Stockwell | Male | 7 | | Mark McPhail | Male | 10 | | | | |
| Lisa Christiansen | Female | 7 | | Dave Watkins | Male | 10 | | Neil Sutherland | Male | 17 |
| David Smith | Male | 7 | | | | | | | | |
| Richard Mortimer | Male | 7 | | | | | | Jeff Neumann | Male | 18 |
| Mike Davidson | Male | 7 | | | | | | | | |
| Jeremy Inglis | Male | 7 | | | | | | John Christie | Male | 19 |
| | | | | | | | | | | |
| | | | | | | | | Kathryn Ward | Female | 20 |