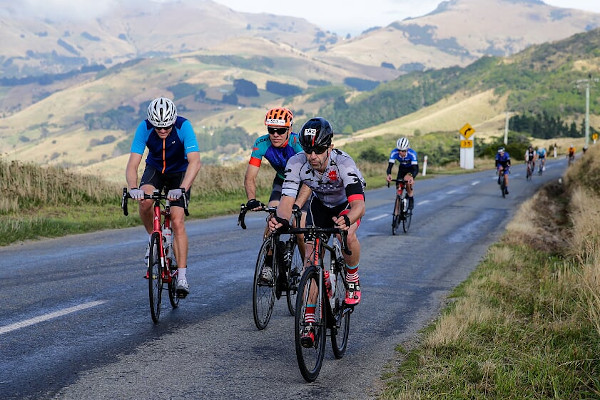 Weekly Christchurch Rides: Tuesday World Champs
(NB: This route has changed since the earthquakes but start time is the same).
Details: Fast group ride of the Long bays circuit. Suitable for intermediate to elite riders. (As the name suggests) Riders race it out for the "king of the hill" title like it's the world Championships of Gebbies & Evans Passes. Riders wait and regroup after both passes.
Time: Tuesday 8:30am (All year round).
Start location: Princess Margaret Hospital on Cashmere Road
Amberley Ride
Details: Meet at the Shell station at the Palms in Shirley at 8:00am on Sunday.
The ride goes out to Amberley via the old motorway then links up to state highway one! Then when you get to Amberley you turn left and the bunch has a "fast section" where it's basically a race to Rangiora! The ride out to Amberley is normally at a steady pace with up to 100 riders so it's a great way to meet new people. You will need to have a good ability to ride hard and ride in a bunch and not all over the place. After Rangiora, you ride back to CHCH! A great 100k ride...
Time: Sunday 8:00am (All year round).
Start location: Shell station at the Palms in Shirley.
Bridge Street
Details: It's a great social ride, and you'll end up doing about 100k. This ride starts at the Bridge street roundabout every Sunday and rolls on out a 8:30am – don't be late!
Time: Sunday 8:30am (All year round).
Start location: Bridge Street roundabout.
Wednesday Coffee
Details: This ride is a social ride for the older ones. It is a great ride as there are a few of the old boys actually willing to talk to you and help you through some of the questions etc you might have. Bring your wallet for a coffee stop or two.
Time: Wednesday 9:25am for a 9:30am departure.
Start location: Top of Shalamar Drive, off Cashmere Road, beside the old stone house.